Hasidic Jewish
Communities in
Brooklyn
got upset about bus with girls dressed in
bikinis
driving around their neighborhoods.Georgi Vodka company designed a very sexy ad campaign that was accepted to be advertised on New York's MTA bus system. Jewish residents contacted the MTA and told them to stop driving these buses in their area and MTA DID. They told the press theses ads are too much for the respectable Jewish communities, but perfect for the taxi system in New York.
Now
Bikini Models
are saying "Butt Out" MTA. So in protest Dozens of bikini clad women walked the streets of New York protesting. Some even showed their backside to buses driving by.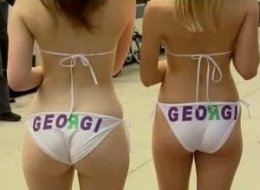 I understand why some people wouldn't want to see women in bikini's. The Georgi
Vodka
company said they had no warning. They were just told the ads were off those bus.
CBS
marketing runs the ads on the MTA system,
Clear Channel
runs the Taxi business. Now the Georgi Vodka ads will run on the taxi's and not the buses in some areas. The bikini models are telling MTA to '
Butt Out
" and we agree. But you got to love all the free press and the way they show it.